After the 2019 manuscript sketch of Adidas Yeezy 451 was exposed, it has been highly anticipated in this year's new product.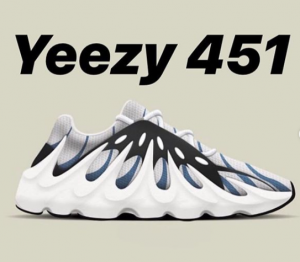 The Yeezy 451 shoe box will continue the previous specifications.
It is worth mentioning that the Yeezy 451 is not equipped with Boost cushioning system or Yeezy 500 with the same adiPRENE+ cushioning. As for which kind of cushioning this pair of shoes will carry, it is still unknown, maybe Kanye West and Adidas will bring us a surprise.
Kanye West used to expose the outsole of the Yeezy 451 in August last year. The integrated outsole wraps up the body of the shoe. It has a volcanic exaggeration and is highly visually recognizable. The large-area meshed body is complemented by leather, and the fur-covered with the toe is quite similar to the Yeezy 700. At the same time, the blue lines are added to the details to create a vibrant atmosphere. The current news that the Yeezy 451 will be released at the end of this year, but the news has not yet been officially announced. And if you want to know more, please pay attention to our continued Report.